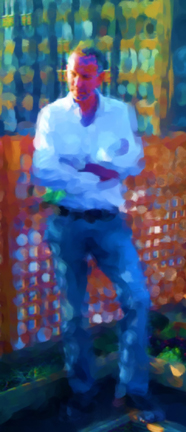 Skot Foreman,
portrait by Timothy Ivory

Skot Foreman Fine Art was founded in the mid-1990s as gallery specializing in Contemporary art of the 20th and 21st Centuries.
From 1994 through 2001, the gallery operated various locations in the greater Miami area (Foreman grew up in South Florida.)
Prior to opening their New York SoHo space in January 2004, the gallery was located in the transitional downtown Atlanta loft district known as Castleberry Hill (near the new Mercedes Benz Falcon's Stadium) from 2001 through 2005.
Skot Foreman Fine Art currently operates a newly renovated 4,000 + square foot space in the arts community of San Miguel de Allende in Central México. Additionally, the gallery continues to exhibit at select international art fairs throughout the year.
Exhibitions are arranged at the museum level; in 2006 "Purvis Young: Paintings from the Street" at the Boca Raton Museum of Art broke attendance and catalog sales records for the museum. The gallery inventories an important collection of Young's work ranging from the early 1970's through the mid-1990s and presented the artist during the 2019 Venice Biennale at Palazzo Mora on Stada Nova just off the Grand Canal.
The gallery features a wide selection of Modern Masters - Picasso, Warhol, Dali, Siqueiros and Rivera all figure prominently. The work of the late Oaxacan artist Alejandro Santiago (1964-2013) has grown to become an additional area of focus over recent years and the owners believe these works, as currently valued, represent a rare opportunity for their clients and collectors worldwide. Basquiat, Calder and Haring, among others, are additional areas of particular interest.
A premier focus is placed on the works of M.C. Escher by the gallery, and in 2005, Skot Foreman Fine Art presented one of the largest collections of the artist's work ever shown in the United States to date in a 10 week exhibition. In 2008, the Flint Institute of Art, Michigan presented a retrospective on Escher's work entitled "Rhythm of Illusion." Skot Foreman lent close to 20 rare works to enrich the show.
Moreover, Skot Foreman maintains in its holdings an extensive collection of prints which the gallery published for famous artists such as the legendary Reverend Howard Finster (1917-2001) whom Mr. Foreman knew personally.
2014/2015 saw gallery abstract artists William Fares and Pascual Hijuelos represent half of the exhibition entitled "Four Artists/Four Geometries" at the Belles Artes in San Miguel de Allende, Mexico.
Currently on the board are two expansion projects; one in San Miguel which will also serve as a "cultural flex space" and the other a renovation of a historical building in downtown San Jose del Cabo (Los Cabos), Baja which will serve as a second location.
The gallery continues to assist a number of foundations and museums in its' efforts to identify works of interest for acquisition and academic research. Scholarly catalogs and writings are published in support of each exhibition.
Principal Skot Foreman has been a member in good standing of International Society of Appraisers, NYC since 2004.