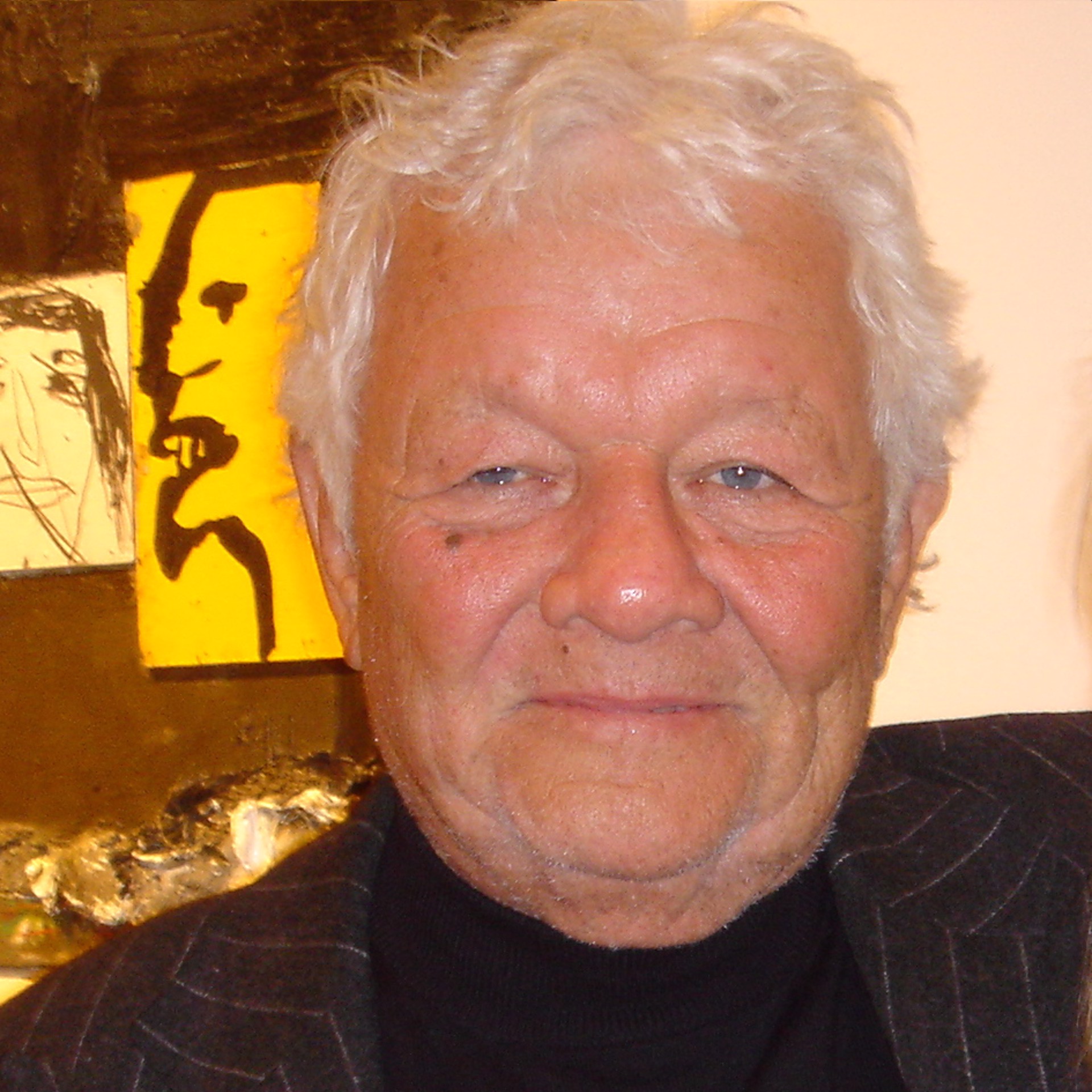 ARTIST STATEMENT
Art over the centuries has been engaged in exploring and producing beauty, and more recently has had a vexed relationship with that concept. My work unabashedly aims to achieve aesthetic beauty by evoking a primal fascination with the allure of gold and the aesthetic pleasure of color, pattern and texture — as evident throughout human visual history. My process involves making bold aesthetic statements only to soften them with a multitude of layers, which adds to the eventual complexity of the surface. This has the effect of indicating a passage of time on the canvas itself.
In my latest work, I return to the subject of trees, which has fascinated me since childhood and occurred in my work since the early eighties. Instead of a representational depiction, I employ something similar to an Iconographic template to portray their presence, complexity, and majesty. I use trees as a metaphor for the human condition — for instance, the visual measure of the passage of time, the seasonal cycle of death and rebirth, and the diversity of personalities. My work is interested in the physicality of trees, and in the way that time, environment and climate impacts the body to produce an enormous visual variety.
In "A Conversation with Trees," the vibrant colors that have been a hallmark of my work are slightly de-saturated and toned down. I explore the visual nature of my subject matter by expressing it in a variety of textures. The chess board pattern which has always been a dominant symbol in my art now inhabits a new role as part of the broader language of pattern and texture.
I see my current work as a culmination of early artistic influences and the maturation of my distinctive personal style. Through an increased intricacy and variety of elements, I continue to push the boundaries of long-standing themes in my work.
PRIMAL INSTINCTS: THE ART OF JAMES PINKNEY HAVARD (1937-2020)
by Julie Sasse, Chief Curator and Curator of Modern and Contemporary Art at the Tucson Museum of Art...
James Havard's psychologically complex paintings and sculptures draw from a vast garden of visual delights, which places him in the company of artists from Paul Gauguin to Joseph Beuys, whose works rely on the unabashed mining of ancient cultural sources and outsider influences. A master colorist, manipulator of paint, and conjuror of images and associations, Havard skillfully melds styles, cultures, eras, and emotive states of being into extraordinary works of art. But while he is keenly aware of the visual references at his disposal, it is the intuitive, primordial origins of his being that he most successfully engages. His awareness of the power of such primacy, and his ability to tap into it, has roots in more than one hundred years of artistic inquiry.
To contextualize Havard's art in this continuum, consider Paul Gauguin's fascination with the culture of Tahiti and the term "primitivism," as defined by French art historians in the late 1800s. By the turn of the century, other artists, including Henri Matisse and Pablo Picasso, were incorporating forms inspired by African and Oceanic masks. Later, Paul Klee, Adolph Gottlieb, and Max Ernst reflected so-called primitive influences in their art. By the mid-1940s, Jean Dubuffet looked to outsider and tribal art, writing a manifesto in 1945 that expounded on the virtues of "crude art" over "cultural art" and he championed art made by the unschooled. Such artistic awareness has inspired countless contemporary artists such as Robert Smithson, Eva Hesse, and Joseph Beuys, who looked to the unending visual material available from cultures across the globe, eras throughout time, and sources that challenge the very notion of fine art.
Havard's work, however, is not simply an artistic homage to art historical and ethnographic sources. Enriching his exuberant and skillful works are multiple layers: a rich personal biography, a passion for collecting, a wry sense of humor, an innate understanding of psychological drama, and an undeniable artistic sophistication. His ebullient use of color, aggressive mark making, emotionally charged figures, and cryptic text place his works firmly in a contemporary context. His primal instincts, coupled with intellectual acumen and artistic virtuosity, have produced a serious and significant body of work produced over the last four decades.
Havard's work in the early 1990s defies easy categorization because of the plethora of visual and iconographic references employed. Figuration and assimilation of ideas are crucial to the success of these works, and Havard's interest in early American furniture and so-called naïve art become equally important. For example, Havard's "Attributed to American School" of 1991 is reminiscent of a well-used blackboard. The deep black background of this vertical painting is rubbed with white in a telltale effect of erased chalk, and the erratic lines drawn in white oil pastel reinforce the feeling of a childhood lesson gone awry. Centered in the composition is a portrait of a standing woman staring self-consciously as she plucks a rose from a wreath. Above her, the words "American School" underscore black and white reproductions of portraits from the same era with an ominous white cross nearby. Small, crudely rendered marks appear throughout the whole painting, and other than a small primitive eye and infinity symbol on a strip at the bottom, the majority of the canvas is uncharacteristically simplified. Havard unleashes his artistic fury only at the top of the painting, where broad, aggressive applications of white paint smeared with blood red are dissected by a red stick figure that holds a phallic gold spear.
African art, Aztec and Maya artifacts, Mimbres culture, and American School images and appropriations are sometimes intermixed, depending on the serendipity of the moment. In "A.H. Mexico" from 1993, for example, a black and white reproduction of an Olmec figure from Mexico holds court near a large dark spiral, thick application of yellow ochre paint, and fabric collage in a small archival box. African references occur in this piece as well. In an untitled box from 1993, a cutout shape resembling a spear is wrapped in white fabric and a loosely rendered line drawing of a four-legged animal is flanked by reproductions of African sculpture on the left and a reproduction of an Aztec carving of a warrior figure on the right. Havard's ability to mix cultures, eras, media, and techniques lies in his keen eye for juxtaposing shapes, colors, and textures. These energized investigations are statements about the rich tapestry of cultural history and Havard's lively interest in it.In a 1996 Artspeak review, Ed McCormick discusses Havard's panache for uniting poetic devices with aggressive visual marks: Havard's new paintings are among the most funky in their brash merging of images, objects, and powerhouse painterly pyrotechnics. He is, without doubt, one of our most dazzling exponents of in-your-face assemblage painting, combining fetishistic found objects with primitivistic figurative references, private symbols, and all manner of vigorous mark making strategies to create large compositions that amount to smashing visual/tactile feasts.
Havard's love of the physicality of paint was ever-present in his paintings at that time, manifested in prominent painterly passages and striking color compositions.
Seeking new media to suit his latest artistic direction, Havard began to work with encaustic – a wax, pigment, and resin combination that is rapidly applied onto a painting surface. This material added to the textural qualities of his paint surface and allowed him to incise, gouge, and carve into the paint with the use of screwdrivers. He also switched from acrylic paint to oil paint – often working directly with his fingers and the ends of paint brushes. The resulting new work shows an even more deliberate use of figuration. In "Agnes" from 1997, for example, Havard renders a crude standing figure (coincidentally his aunt) in white paint and acid green. One leg sports multicolored stripes and a green rubber boot, while the other leg is a mere slash of white. Her eyes are vacant and incised into the white paint, as are her full lips and nose. A red brimmed hat cheers up the otherwise morose-looking personage; its rudimentary limbs are hardly able to hold a red bucket dangling from spidery fingers. In the deep, dark greens of the horizon-less background, a small incongruous pink plant marks the ground line. Floating in the upper left, a white outline of a pitched roof house and a childlike tree speak of comforting domesticity in the otherwise spooky scene. With so many non-threatening clues peppered throughout the eerie work, essentially one is left with a strange sense of familiarity in tension with impending doom.
Havard's connection to the work of Dubuffet is evident. Dubuffet coined the term "Art Brut" (also called "Crude Art") in 1945 after he began to collect the work of children, untrained artists, the "primitive," and the insane. He found like-minded artists, including Michel Tapie, who coined the term "Art Informel" ("Formless Art"), and surrealist Andrew Breton, both of whom were fascinated with the spontaneity of such works. Together they formed the Compagnie de l'Art Brut in June 1948 to manage the collection of artifacts and to promote an exhibition of works by professional artists working with similar tendencies. Dubuffet believed that art had become pretentious and preferred to champion work that was untouched by artistic culture. His nudes, animals, faces, and groups of people were enlivened by the rawness of heavily layered and granulated impastoed paint, and childlike incised lines, applied with what Peter Schjeldahl called a "slash and burn nonchalance aiming through exaggerated provocation to trigger delight." Later, in 1972, British writer Roger Cardinal coined the term "Outsider Art" as an English equivalent to Dubuffet's Art Brut. The instinctual and intentionally unsophisticated nature of Dubuffet's art and Art Brut in general was well suited for Havard's exhilarating, yet ferocious approach to paint.
Confident in his ability to pull from disparate sources, Havard greatly expanded his thematic repertoire in the late 1990s to include fly fishermen, gardeners, and salsa dancers. These paintings were placed in weathered, ornate frames found at junk stores and estate sales. They create a sharp contrast to the rawness of the subject matter, yet somehow added to their patina and intrigue. Another new development in his compositions concerned the interaction between two figures and figures within landscapes, territory he had not treated in previous works. In the large-scale "Garden Guardians" of 1997, for example, two crudely rendered figures, each wearing brimmed hats, face each other with arms outstretched. By the roughness of their execution, the viewer is left pondering whether the figures are in violent interaction or reaching to each other in friendly greeting. To the lower left, a few scratches of line indicate a woman smoking a cigarette and passively watching the other two. Gone are the squirts and squiggles and chaotic layering of gestural paint seen in other early works. However, Havard retains the curious placement of random numbers near a gridded box, scratched into the surface of the dark paint. These numbers, while not signifying anything in particular, elicit a certain sense of magic, like a spell that begs deciphering. With his utterly seductive ability to manipulate paint, Havard creates a kind of dark magic, a surrealistic mood with the artist in full control.
Likening Havard's work to Jean-Michel Basquiat (the noted graffiti artist who rose to brief stardom in 1982 before his untimely death six years later), critic Tony Cavanaugh remarks that the two artists share only the crude simplicity of the rendering of their figures. However, Cavanaugh heralds Havard's rich surface textures, tactile sensuality, and a luminosity that Basquiat's work does not embody:
"Havard's figures are raw and elemental. In their utter nakedness of guile and anatomical economy they resemble the works of very young children, albeit with an innate sophistication that can only belong to a mature artist in complete control of his powers. They are literally "paint people," pulled as if by an act of enormous will from the properties of the pigment itself."
These "paint people" dominate the picture plane; they are no longer elements in a pastiches of collaged references to the figure – they are the composition. Havard under paints many of these works with a light buff yellow color. Then he applies a thick layer of dark, tar-like paint, which enables him to scrape into the dense surface to create emphatic, urgent lines. In "Fly Fisherwoman with Admirer" from 1996, Havard positions his green-haired, red-lipped angler to the right, casting her line outside of the picture plane. In the simplest of scratched lines, a small face in profile emerges from the dark void, rendered insignificant by the reduction of his shape and the intensity of her actions and brilliance of her coloration. One cannot help but wonder if the artist is making a statement about the doers and the watchers in the world – a commentary about those whose presence commands attention and dominates the passive other.
One of the most overt examples of Havard's new economy of form can be seen in "Mboye Statue" of 1996, a small, highly-textured painting in wax and oil set in a heavily ornate, floral painted frame. Arms outstretched as if reaching for something to the right of the canvas, an elongated black figure with a gasping red mouth and tiny white eyes stares alarmingly at the viewer. Placed cropped at the head in a deep, blood-red background, the figure recalls Dubuffet's oil on board works from the early 1950s as much as Mexican artist Rufino Tamayo's iconic figures. Equally powerful is "Red Couple" of 1996. In this work, two standing figures, fully occupying the canvas, face each other with an intensity that is palpable. Neither figure is rendered in red (in fact, the female, made up of simple white lines, is hardly delineated at all). Belying the paintings title, they occupy a brilliant space that speaks of passion and vitality. The male figure is the protagonist in this seductive dance between lovers; wearing a brimmed hat rendered in dark line and incising, he is heavily impastoed in multiple colors. His intent stare and strong hand grasping the head of his partner, along with his clearly demarked penis, make a strong statement about the erotic action to take place.
Havard also executed portraits that fill the canvas – heavily textured faces that recall the great French painter Georges Rouault in violent collision with outsider art. "Yellow Mask" of 1996 is one of the first such portraits. In this work, a luscious yellow face dominates the full composition. Due in part to the ferocious look on the highly textured face in an acrid yellow-green, this work is one of the most ominous paintings at that time. The eyes, made up of blood-red incised rings which reveal the under painting deep black/green, look out intently at the viewer. The red lips of this masked figure suggest an eerie, flesh-eating monster; a slight flick of the brush at the upper left creates a devil horn that further reinforces the sinister overtones of the composition. But negative energy is merely an emotional plaything for Havard. While one might think the artist is exorcising his own demons in such works, he is more likely delighting in the psychological drama that he conjures with a limited palette and paint handling. Just as easily, the artist elicits a contradictory sinister yet sentimental portrait in "Dogon-Family Portrait" of 1996 with the innocent simplicity of a few scratched lines and expressive colorful applications of paint. The dominant figure in this grouping of three is the first clue that one reading of this is impossible. Its green face (with bared teeth and a large dark 'x' mark) suggests a tribal grasshopper; and its beady little white eyes, staring curiously at the viewer, inspire doubt about the sentimental nature of the familial grouping. Viewers are buffeted by contrary responses: Is it good or evil they are witnessing? Only the artist knows, but clearly he is entertaining himself and reveling in the sheer joy and freedom of paint and subject.
Occasionally, Havard embraces somber tones while exalting in pastels and brilliant colors. In an apparent commentary on "chromophobia" (a fear the artist has never suffered), he created "Being Afraid of Colored Squares" of 2001. In this mediumsized work, a charred-black figure, floating in a brilliant yellow domain, arches back. In the upper-right-hand corner, a grid of expressive pastel squares plays off the figure's gaping mouth, creating a strange tension of color and image – a playful revelation of the artist's wry sense of humor. Obviously, Havard does not box himself in to one palette, style, or theme. Each piece reacts to another. He visits, then departs from, heavy impasto, lightly applied monotypes, heavy incising, crude articulation of form, and references to a primitive past – then revisits them in new combinations.
Beginning in 2002, Havard, ever the restless experimenter, created a new challenge for himself – sculptural form. Using water-based clay and casting the forms in Hydrostone, he has been making one of a kind three-dimensional works that are painted, flocked, covered in wax, sheathed in fabric, and slapped with expressive dollops of paint. These roughly formed shapes seem to cry out with a quiet, primordial urgency, seemingly silenced in their apparent agony – adding yet another layer of intrigue to Havard's already compelling works. Defying the warnings of others that sculpture is difficult territory, Havard created "Garden Guardians" of 2002, a Hydrostone figure covered in mattress ticking, wax, and paint. The thick layer of wax enshrouds the image, and inky, smeared black paint crudely highlights the eyes and mouth, in keeping with the rough articulations of his painted figures. This imploring figure is loosely slathered in white paint on its torso and forehead – the waxy surface dripping down. AS if to spite the doubters in his artistic circle, he painted the word "back" on the back of the piece, a playful reference to their fears that he could not work in three dimensions.
Throughout his long and illustrious career, James Havard has consistently exhibited a tenacity of spirit and curiosity, refusing to fall into a stylistic groove or single-minded definition of his art. When so many artists who have come before him have been content to ride the wave of financial and critical success without taking risks for the sake of discovery, it is even more remarkable that Havard continues to seek new paths on his artistic journey. In 2006 he is embarking on yet another transition that will surely result in changes in his art. Selling his house and studio to move to a studio loft, he will give up his beloved garden and beautiful home. This decision appears to be liberating. Freed from his obligations to domesticity, he will not be able to devote his full attention to art and travel. In one sense, he is returning to familiar territory. For more than forty years, he has dipped into the well of artistic inspiration. From a background of working in traditional realism, he has evolved to high-brow minimalist works in resin to elegant mixedmedia abstract canvases, boxes, and boards, to expressive oil and encaustic works, to his latest exuberant paintings and sculpture. In all of these artistic manifestations, Havard has shown a primal sense of joy in color, texture, and form – with the intellectual acumen to make sense of it all.
Selected Writings on James Havard
"The image comes out of the paint. I push it around and something happens — or it doesn't. If it doesn't work I put it aside and take it out at another time. With all that energy in it, sometimes it just comes out with a little bit more work." i James Havard
"James Havard's psychologically complex paintings and sculptures draw from a vast garden of visual delights, which places him in the company of artists from Paul Gauguin to Joseph Beuys, whose works rely on the unabashed mining of ancient cultural sources and outsider influences. A master colorist, manipulator of paint, and conjuror of images and associations, Havard skillfully melds styles, cultures, eras, and emotive states of being into extraordinary works of art. But while he is keenly aware of the visual references at his disposal, it is the intuitive, primordial origins of his being that he most successfully engages. His awareness of the power of such primacy, and his ability to tap into it, has roots in more than one hundred years of artistic inquiry." ii Julie Sasse
One of the first Abstract Illusionist painters (a movement that came out of New York in the 1970s), Havard was known on the East Coast as "Gentleman Jim" due to his dapper dress and impeccable manners. "I like to dress; I take that from my grandfather. I was brought up lower-class, on a farm [in Texas], real strict." The gentleman also has an eye for good lines in a building; Architectural Digest has featured both his New York loft (1986) and his Santa Fe home (1990). iii Kathryn M. Davis
In his prototypal outsider manifesto "Asphyxiating Culture", the late Jean Dubuffet made a passionate case for what he called "raw art" - art that springs directly from the need for self expression rather than from a desire to imitate historical models. Where his argument falters, however, is in championing almost exclusively the work of primitives, mental patients, and other unschooled isolates over that of sophisticated artists who channel their creative powers deliberately with the refreshing kind of directness exemplified in the recent paintings of James Havard. Curiously, considering the bluntness of his present approach, Havard first attracted attention as a technical virtuoso: his early paintings were abstract illusionist tours de force in which symbols appeared to float inches above the picture plane. Gradually, however, he has moved away from mere magic of the flashy sleight of eye variety to the deeper, earthier forms of shamanism and soulcatching that we see in his starkly simplified figure paintings. iv Ed McCormack
His kinship with photo realism is evident not only in his deceptively threedimensional trompe l'oeil effects, but also in his sophisticated airbrushing of thick paint surfaces. Typically, he paints bold totem like forms and slender geometric shapes as a clustered central motif that is played against more transparent areas or made to seem suspended in front of the canvas as if casting a deep shadow. His titles are sometimes scrawled on the work like wall writing or New Mexico sand painting; his subjects range from the American Indian to the environment to allusions to American Chippendale furniture. The display evokes the mystery of American Indian culture. v Victoria Donohoe
"From the quasi-Pop work to his invention of Abstract Illusionism to his now profound exploration in to the existential portrayal of the soul of his ancestors and their world, his art is beautiful and true. The truth comes from his uncanny ability to observe both the known and the unknowable and bring them forth visually through his personal filter. His technical virtuosity is awesome, and in his hands paint brings life to the spirits of the ancients he feels so close to in New Mexico, the ones he portrays with such mystery and passion". vi Dianne Vanderlip
James Havard's highly individual work draws inspiration from American Indian and African tribal cultures, as well as cave paintings and children's drawings- and is often full of inner demons and dark, multicultural symbols. Yet they are also affectingly humorous, endowed with qualities that we recognize immediately as inherent to the human condition. During his early career, Havard was known as one of the leading practitioners of "Abstract Illusionism." In the late 1980s he made a dramatic shift to a unique brand of figuration that recalls art brut in its intentional naïveté of line and rigorous and textural manipulation of paints. As art critic Tony Cavanaugh has written, "Havard's figures are raw and elemental. In their utter nakedness of guile and anatomical economy they resemble the works of very young children, albeit with an innate sophistication that can only belong to a mature artist in complete control of his powers." vii Laura Addison
i James Havard, The Santa Fe New Mexican August 29, 1997 ii Catalogue Essay- Excerpts from PRIMAL INSTINCTS: THE ART OF JAMES HAVARD Written by Julie Sasse, Chief Curator and Curator of Modern and Contemporary Art at the Tucson Museum of Art iii Kathryn M. Davis, July 2009 of Art Ltd iv Critical Essay by Ed McCormack, New York , Artspeak (Spring1996) 8. v Blend Of Illusion, Realism In Works Of James Havard , May 14, 1988 by Victoria Donohoe, Philadephia Inquirer Art Critic vi "James Havard", 2006, Dianne Vanderlip, Polly and Mark Addison Curator of Modern and Contemporary Art at the Denver Art Museum vii Paint, Refined and Raw, The Mastery of James Havard by Laura Addison, Trend Magazine Fall 2009
C.V.
2015 "Primal Poetry", Bill Lowe Gallery, Atlanta, GA (solo)
"Gallery Group 2008", Allan Stone Gallery, New York, NY
"Drink the Juice of the Stone", Linda Durham Gallery, Santa Fe, NM (solo)
2006 "Recent Paintings", Allan Stone Gallery, New York, NY (solo)
2004 "Sight Unseen 3", James Kelly Contemporary Art Gallery, Santa Fe, NM
2003 Bentley Gallery, Scotsdale, AZ (solo)
2003 Bentley Gallery, Scottsdale, Arizona, USA (solo exhibition)
2002 R.B. Raven Gallery, Rancho de Taos, New Mexico, USA (solo exhibition)
2002 R.B. Raven Gallery, Rancho Taos, NM (solo)
Group Show, Allan Stone Gallery, New York, NY
2001 The Lowe Gallery, Atlanta, GA
Allan Stone Gallery, New York, NY (solo)
2001 The Lowe Gallery, Atlanta, Georogia, USA (solo exhibition)
Paintings, Allan Stone Gallery, New York, New York, USA (solo exhibition)
2000 "Paintings", Lowe Gallery, Atlanta, GA (solo)
Works on Paper, Lowe Gallery, Atlanta, GA (solo)
"Fortieth Anniversary", Allan Stone Gallery, New York, NY
1999 Allene LaPides Gallery, Santa Fe, New Mexico, USA (solo exhibition)
1998 Cedar Rapids Museum, Cedar Rapids, Iowa, USA
New Mexico Artists, Cedar Rapids, Indiana, USA
1998 New Mexico Artists, Cedar Rapids, IA
1997Allan Stone Gallery, New York, NY (solo)
1997 New Paintings, Allan Stone Gallery, New York, New York, USA (solo exhibition)
Allene Lapides Gallery, Santa Fe, New Mexico, USA (solo exhibition)
1996 Allan Stone Gallery, New York, New York, USA
1995 Allene Lapides Gallery, Santa Fe, New Mexico, USA (solo exhibition)
1994 Allan Stone Gallery, New York, New York, USA
1993 Hokin Gallery, Palm Beach, Florida, USA (solo exhibition)
1992 Marion Locks Gallery, Philadelphia, Pennsylvania, USA (solo exhibition)
1991 Tokyo Art Fair, Tokyo, JAPAN
Marion Locks Gallery, Philadelphia, Pennsylvania, USA
1990 Chicago International Art Exposition, Chicago, Illinois, USA
1990 Allan Stone Gallery New York, NY (solo)
1989 Allan Stone Gallery, New York, New York, USA (solo exhibition)
1988 Marian Locks Gallery, Philadelphia, Pennsylvania, USA (solo exhibition)
Elaine Horwitch Gallery, Scottsdale, Arizona, USA (solo exhibition)
Louis K. Meisel Gallery, New York, New York, USA
Selections From the Ellen and Jerome Westheimer Collection, Oklahoma Art Center, Oklahoma City, Oklahoma, USA
1987 James Havard-The 80's, Louis K. Meisel Gallery, New York, New York, USA
Convincing Illusions, Louis K. Meisel Gallery, New York, New York, USA
Collector's Choice, Philbrook Art Center, Tulsa, Oklahoma, USA
1986 Hokin Gallery, Palm Beach, Florida, USA (solo exhibition)
Louis K. Meisel Gallery, New York, New York, USA (solo exhibition)
Lavignes-Bastille Gallery, Paris, FRANCE (solo exhibition)
1985–1986 Beaux-Arts Collectors Gallery of the Columbus Museum of Art, Columbus, Ohio, USA
1985 Jacksonville Museum of Arts & Sciences, Jacksonville, Florida, USA (solo exhibition)
Morgan Gallery, Kansas City, Missouri, USA
What's New-Important Recent Acquisitions and New Directions, Byer Museum of Art, Evanston, Illinois, USA
1985 49th Annual National Midyear Show, Butler Institute of American Art, Youngtown, Ohio, USA
Park Synagogue Art Festival X, Cleveland, Ohio, USA
1984 Jacksonville Museum of Arts & Sciences, Jacksonville, FL
Morgan Gallery, Kansas City, MO
1983 "Anderson Ranch Faculty Exhibit", Cohen Gallery, Denver, CO
Hokin/Kaufman Gallery, Chicago, IL
1983 Elaine Horwitch Gallery, Scottsdale, Arizona, USA (solo exhibition)
Hokin/Kaufman Gallery, Chicago, Illinois, USA (solo exhibition)
Posner Gallery, Milwaukee, Wisconsin, USA
University of Wisconsin, Madison, Wisconsin, USA
Art Today, Sibley's Ward Gallery
Anderson Ranch Faculty Exhibit, Cohen Gallery, Denver, Colorado, USA
10th Annuversary Show, Louis K. Meisel Gallery, New York, New York, USA
Centric 9: Trompe l'Oeil Abstraction, University Art Museum, California State University, Long Beach, California, USA
Illusionary Artists, Posner Gallery, Milwaukee, Wisconsin, USA
Art Today, Ward Gallery, Rochester, New York, USA
Ben Shahn Galleries, William Patterson College, Wayne, New Jersey, USA
Seven American Artists, Cleveland Museum of Art, Cleveland, Ohio, USA
1982 Martha White Gallery, Louisville, Kentucky, USA (solo exhibition)
Moss Gallery, Toronto, Ontario, CANADA (solo exhibition)
Myra Morgan Gallery, Kansas City, Missouri, USA (solo exhibition)
Morgan Gallery, Shawnee Mission, Kansas, USA (solo exhibition)
Beyond The Surface: The Abstract llusionists, Tangeman Fine Arts Gallery, Cincinnati, Ohio, USA
Hokin Gallery, Chicago, Illinois, USA
Louis K. Meisel Gallery in Brussels, Galerie Isy Brachot, Brussels, BELGIUM
Hokin Gallery Inc., Palm Beach, Florida, USA
Director's Gallery Glimpse 1982, Fine Arts Museum of Long Island, Hampstead, New York, USA
1981 Hokin Gallery, Palm Beach, Florida, USA (solo exhibition)
Louis K. Meisel Gallery, New York, New York, USA (solo exhibition)
Confluences of Traditional Change /24 American Indian Artist, Richard A. Nelson Gallery, University of California, Davis, California, USA
Museum of the Southwest, Midland, Texas, USA
Gallery of the American Indian Community House; Brunner Gallery, Iowa State University, Ames, Iowa, USA
Randoph Macon Women's College, Lynchburg, Virginia, USA
Oklahoma Art Center, Oklahoma City, Oklahoma, USA
1980 Hokin Gallery, Chicago, Illinois, USA (solo exhibition)
Tolarno Galleries, Victoria, AUSTRALIA (solo exhibition)
Oklahoma Art Center, Oklahoma City, Oklahoma, USA
Albright Knox Museum, Buffalo, New York, USA
Tomasulo Gallery, Union College, Union, New Jersey, USA
1979–1980 Reality of Illusion, Denver Museum, Denver, Colorado; University of Southern California, Los Angeles, California, USA, Traveling Exhibition
1979 Louis K. Meisel Gallery, New York, New York, USA (solo exhibition)
C. W. Post Art Gallery, Long Island University, New York, USA
Realist Space, Gallery 700, Milwaukee, Wisconsin, USA
Washington International Art Fair, Washington, DC, USA
Elaine Horwitch Gallery, Scottsdale, Arizona, USA
Abstract Illusionism, Springfield, Massachusetts; Museum of Fine Arts, Massachussets; Danforth Museum, Framingham, Massachusetts, USA, Traveling Exhibition
1978 Janus Gallery, Venice, California, USA (solo exhibition)
Irving Galleries, Palm Beach, Florida, USA (solo exhibition)
Abstrakter Illusionismus, Amerika Haus, Frankfurt, GERMANY
Art for Collectors, Toledo Museum, Toledo, Ohio, USA
Photorealism and Abstract llusionism, The Arts & Crafts Center of Pittsburg, Pittsburg, Pennsylvania, USA
Edwin Ulrich Museum, Wichita State University, Wichita, Kansas, USA
1977 Marian Locks Gallery, Philadelphia, Pennsylvania, USA (solo exhibition)
Hanson-Cowles Gallery, Minneapolis, Minnesota, USA (solo exhibition)
Louis K. Meisel Gallery, New York, New York, USA (solo exhibition)
Galerie Le Portrail, Heidelberg, GERMANY (solo exhibition)
Baltimore Museum of Art, Baltimore, Maryland, USA
Internationaler Kunstmarkt, Cologne, GERMANY
Solomon R. Guggenheim Museum, New York, New York, USA
Tulane University, New Orleans, Louisiana, USA
Senans Gallery, Basel, SWITZERLAND
Luntz Galleries, Milwaukee, Wisconsin, USA
Shore Gallery, Boston, Massachusetts, USA
Breaking the Picture Plane, Tomasulo Gallery, Union College, Union, New Jersey, USA
Brainerd Hall Gallery, SUNY College at Postdam, Postdam, New York, USA
Seven New York Artists: Abstract Illusionism, Sewall Art Gallery, Rice University, Houston, Texas, USA
1976 Morgan Gallery, Shawnee Mission, Kansas, USA (solo exhibition)
Delahunty Gallery, Texas, Texas, USA (solo exhibition)
F.I.A.C. Paris International Art Fair, Paris, FRANCE
Abstract Illusionism, Paul Mellon Art Center, Wallingford, Connecticut, USA
Annual Midyear Show, Butler Institute of American Art, Youngtown, Ohio, USA
Fort Wayne Museum of Art, Fort Wayne, Indiana, USA
Painting and Sculpture Today, Indianapolis Museum of Art, Indianapolis, Indiana, USA
Morgan Gallery, Shawnee Mission, Kansas, USA
Art Today U.S.A., Teheran, IRAN
Three Centuries of American Art, Philadelphia Museum of Art, Philadelphia, Pennsylvania, USA
Randoph Macon College, Lynchburg, Virginia, USA
Pyramid Gallery, Washington, DC, USA
Washington International Art Fair, Washington, DC
Look Again, The Taft Museum, Cincinnati, Ohio, USA
Louis K. Meisel Gallery, New York, New York, USA
1975–1976 The Baltimore Museum of Art, Baltimore, Maryland, USA
1975 Gallerie Krakeslatt, Bromolla, SWEDEN (solo exhibition)
Louis K. Meisel Gallery, New York, New York, USA (solo exhibition)
Deson-Saks Gallery, Chicago, Illinois, USA (solo exhibition)
Gallerie Krakeslatt, Bromolla, SWEDEN
Torline, Tor Scandinavia (Cruise Ship) Commission, Nordjyllands Kunstmuseum, Aalborg, DENMARK
Weatherspoon Gallery, Greensboro, North Carolina, USA
Philadelphia Museum of Art at Moore College of Art, State College, Pennsylvania, USA
1974 Marian Locks Gallery, Philadelphia, Pennsylvania, USA (solo exhibition)
Galerie Ahlner, Stockholm, SWEDEN (solo exhibition)
Galerie Fabian Carlsson, Goteborg, SWEDEN (solo exhibition)
Galleriet Lund, SWEDEN (solo exhibition)
Galerie Arneson, Copenhagen, DENMARK (solo exhibition)
Marion Locks Gallery, Philadelphia, Pennsylvania, USA
Galerie Arneson, Copenhagen, DENMARK
Basel International Art Fair, Basel, SWITZERLAND
Stefanotti Gallery, New York, New York, USA
1973 Marian Locks Gallery, Philadelphia, Pennsylvania, USA (solo exhibition)
Gimpel & Weitzenhoffer, New York, New York (solo exhibition)
Rickerman Gallery, Cologne, GERMANY (solo exhibition)
1971 O. K. Harris Gallery, New York, New York, USA (solo exhibition)
Marian Locks Gallery, Philadelphia, Pensylvania, USA
Smithsonian Institution, Washington, DC, USA
1970 Henri Gallery, Washington, DC, USA (solo exhibition)
Marian Locks Gallery, Philadelphia, Pennsylvania, USA (solo exhibition)
Chapman Kelly Gallery, Dallas, Texas, USA
Marian Locks Gallery, Philadelphia, Pennsylvania, USA
Seattle Art Museum, Seattle, Washington, USA
Art Galleries, University of California, Santa Barbara, California, USA
Museum of Fine Arts, Houston, Texas, USA
Indianapolis Museum of Art, Indianapolis, Indiana, USA
Cooper-Hewitt Museum of Art, New York, New York, USA
High Museum of Art, Atlanta, Georgia, USA
French & Co. Gallery, New York, New York, USA
O. K. Harris Gallery, New York, New York, USA
Henri Gallery, Washington, DC, USA
M. H. De Young Memorial Museum, San Francisco, California, USA
Addison Gallery of American Art, Andover, Massachusetts, USA
The Drawing Society, Second Eastern Regional Exhibition
Sculpture: New Forms, New Materials, Peale Galleries of the Pennsylvania Academy of Fine Arts, Philadelphia, Pennsylvania, USA
1969 Vanderlip Gallery, Philadelphia, Pennsylvania, USA (solo exhibition)
Marian Locks Gallery, Philadelphia, Pennsylvania, USA
Twentieth Anniversary New England Exhibition, Silvermine Guild, New Canaan, Connecticut, USA
1968 Marian Locks Gallery, Philadelphia, Pennsylvania, USA
Cheltenham Art Center, Cheltenham, Pennsylvania, USA
1967 Temple University, Philadelphia, Pennsylvania, USA (solo exhibition)
Annual Award Exhibition, Peale Galleries of the Pennsylvania Academy of Fine Arts, Philadelphia, Pennsylvania, USA
1966 Annual Fellowship Exhibition, Peale Galleries of the Pennsylvania Academy of Fine Arts, Philadelphia, Pennsylvania, USA
1965 Chapman Kelly Gallery, Dallas, Texas, USA (solo exhibition)
National Collection of Fine Arts, Smithsonian Institution, Washington, DC, USA
Annual Fellowship Exhibition, Peale Galleries of the Pennsylvania Academy of Fine Arts, Philadelphia, Pennsylvania, USA
Honolulu Academy of Arts, Honolulu, Hawaii, USA
Long Beach Museum of Art, Long Beach, California, USA
Colorado Springs Fine Arts Center, Colorado Springs, Colorado, USA
University of Kansas Museum of Art, Lawrence, Kansas, USA
Atlanta Art Association, Atlanta, Georgia, USA
University of Massachusetts, Amherst, Massachusetts, USA
Oklahoma Art Center, Oklahoma
DeWaters Art Center, Flint Institute of Fine Arts, Flint, Michigan, USA
Eastern States Art Exhibition, Museum of Fine Arts, Springfield, Massachusetts, USA
The Drawing Society, Eastern Central Regional Exhibition
The Drawing Society, Traveling National Exhibition
Atelier Chapman Kelly, Dallas, Texas, USA
National Institute of Arts & Letters, New York, New York, USA
1964 Annual Fellowship Exhibition, Peale Galleries of the Pennsylvania Academy of Fine Arts, Philadelphia, Pennsylvania, USA
Janet Nessler Gallery, New York, New York, USA
1963 Annual Fellowship Exhibition, Peale Galleries of the Pennsylvania Academy of Fine Arts, Philadelphia, Pennsylvania, USA
1962 Annual Fellowship Exhibition, Peale Galleries of the Pennsylvania Academy of Fine Arts, Philadelphia, Pennsylvania, USA
Read More