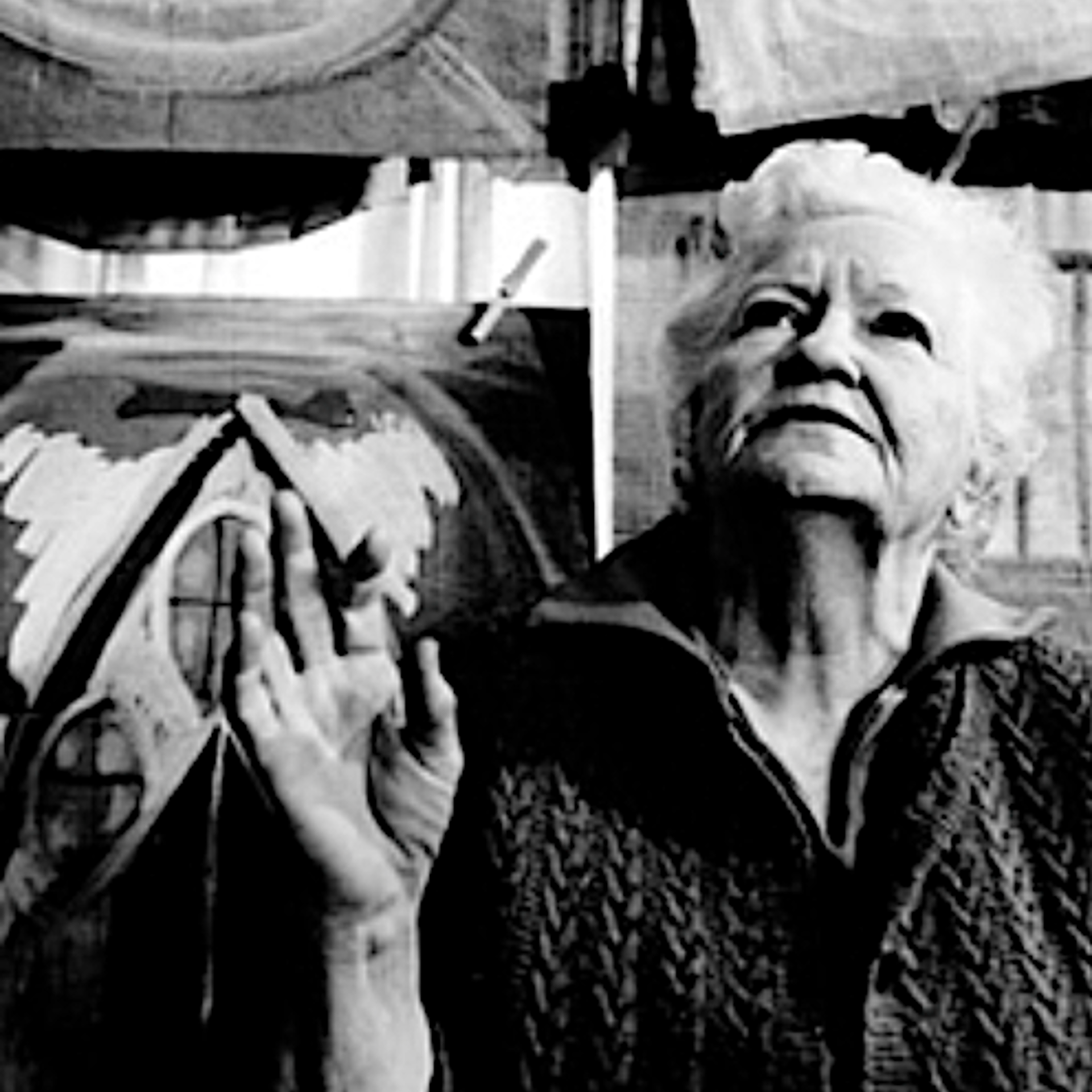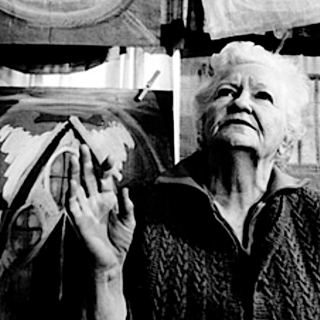 Sybil Gibson (b. 1908 in Dora, Alabama; d. 1995 Florida) was an American painter. She was a self-taught artist.
Born Sybil Aaron, her father was a wealthy coal mine owner and farmer. She was educated at Jacksonville State Teachers College, earning a B.S. in Elementary Education, before going on to become a teacher.
While her childhood was filled with money and prosperity, most of her adult life was spent in dire poverty. She married Hugh Gibson after graduation and they had a daughter. For much of her adult life she had no interest in painting, having had her ambitions crushed when a college art teacher told her she had no talent.
However, on Thanksgiving Day 1963, aged 55, Gibson took to creating her own wrapping paper designs using tempera paint and brown paper grocery bags. Also, by soaking a heavy cardboard box she discovered when she peeled off the outside thick layer it made a sturdy painting surface. Although this was a very painstaking and time-consuming procedure she chose to make her canvases in brown paper and cardboard. She continued to paint throughout her life using tempera, pastels and pencils on paper bags. Later she painted on newspaper – which became a prominent part of her technique. Often news print can be seen beneath the light painted surface.
The simple subject matter of flora and fauna are submerged in mystery. Line gives way to light where lyrical hues bleed as in the dome of a rural Alabama sky. Yet form emerges shy of abstraction, retaining the familiarity of distant memory. Evasive flowers become something immediate and urgent. The spirit-like portraits which populate Gibson's work peer as if from behind a veil.
Howell Raines wrote in June 1971 that "the paintings are not over-powering, they are truly fragile in the best sense. The colors are very delicate and while Sybil Gibson's work is figurative, her realism is tempered with a certain dream-like quality."
Other critics have compared her work to that of Matisse, Auguste, Renoir, Milton Avery, and Odilon Redon.
In May 1971, shortly before the opening of her first art exhibition at the Miami Museum of Modern Art, Gibson disappeared, leaving drawings strewn about her yard. An eccentric woman, Gibson disappeared several times. Around 300 of her paintings are believed to exist in museums and private collections, although many more have been destroyed after being tossed around outside her home when she'd disappear.
She moved from Alabama to Florida in the '40s and then returned to Alabama in the '70s. Later in life, she reunited with her daughter who arranged for Gibson to return to Florida, where she had an operation to restore her sight. She lived the rest of her life in an assisted facility until her death at the age of 86.
Gibson's work has been exhibited in more than fifty one-woman exhibitions. Her work is featured in the collections of the Museum of Art, Alabama; the Montgomery Museum of Fine Arts, Alabama; the Museum of American Folk Art, New York City and the New Orleans Museum of art in Louisiana.
Read More